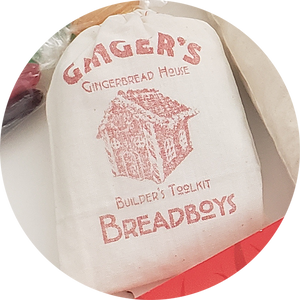 Ginger's Breadboys
Tips, pastry bag, and food coloring. Your gingerbread house "Builder's Toolkit" conveniently packaged in a muslin bag. Use to build and decorate.
Gingerbread House "Builder's Toolkit" Decorating Bag
Sale price Price $8.95 Regular price
Availability: In Stock
Perfect addition to your custom built gingerbread house kit!
4 x 6 inch stamped muslin bag holds:
Two (2) 12-inch plastic decorating/pastry bags

Four (4) stainless steel decorating tubes:


#4 piping tip

#7 plain border (mortar)

#48 basket weave

#30 closed 8-pointed star


Two (2) standard plastic couplers (base and ring)

.70 oz green food coloring

Not offered for individual sale.