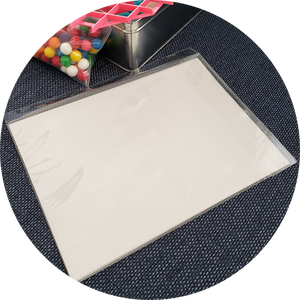 Ginger's Breadboys
Parchment makes baking easier. The one thing you may not have in your panty so we provide it in your gingerbread kit.
Parchment Paper Pieces
Sale price Price $2.50 Regular price
Availability: In Stock
Perfect addition to your custom built gingerbread house kit!
Pre-cut parchment paper pieces.
We've found it easier to roll out dough onto parchment paper. Our pieces are sized to accommodate our house cutters so you don't roll out more dough than you need! And then it is a breeze to move the dough - on the parchment piece - directly to the baking sheet. As Ina would say, "How easy was that?!"
Not offered for individual sale . . .  yet.