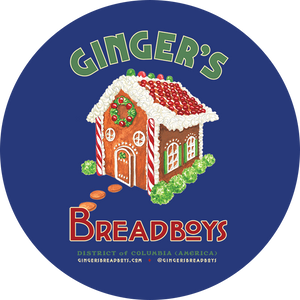 Ginger's Breadboys
The best, all-inclusive, do-it-yourself gingerbread house kit. Ginger's Breadboys brings you a Gingerbread House Baking Kit for the holidays. Helping you make 2 (not 1 but 2!) large gingerbread houses. Start a tradition of family fun in the kitchen.
Gingerbread House Kit
Sale price Price $64.95 Regular price
Availability: In Stock
An ideal gift for teachers, colleagues, family, and friends.
DIY! Make your own gingerbread house from our Gingerbread House kit! Make, bake, and decorate two (2) gingerbread houses from scratch. Complete with mix, cutters, instructions, and candy! (Need inspiration? Check out these decorating suggestions.)
Kit includes:
meringue powder (for royal icing)
pre-cut parchment paper pieces

walls and roof panels
end wall panel with gable
rounded-top door
round window/wreath
square or diamond window
disc paver or shingle

wall and roof dough embossers (cobblestone and diamond patterns)

peppermint sticks
gumdrops
gumballs
cinnamon red hots
hard candy

2 12-inch plastic decorating/pastry bags
4 stainless steel decorating tubes:

#4 piping tip
#7 plain border (mortar)
#48 basket weave
#30 closed 8-pointed star

2 standard plastic couplers (base and ring)
green food coloring

refrigerator magnet
The gingerbread house kit is sustainably packaged in a rectangular tin measuring 10⅝" x 7⅞" x 3" and is shipped in a plain cardboard box (so as not to give away the gift!) Weight is approximately 4.5 lbs.
Quantities of the DIY gingerbread house kit are limited. Ordering early in the season is the best option to ensure availability for the holidays.
Need gluten-free? If you plan to eat your gingerbread house and need gluten free, please contact us after placing your order. We will replace the regular mix with our gluten free.
Not pre-baked or pre-assembled.
Need Ideas? We've compiled a list of decorating suggestions to show you how to decorate your gingerbread house. All are doable from our gingerbread house kit.