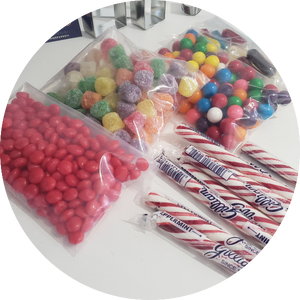 Ginger's Breadboys
Assorted Gingerbread House Decorating Candy. Gum Balls, Gumdrops, Peppermint Sticks, Hard Candy, and Red Hots
Assorted Decorating Candy
Sale price Price $12.95 Regular price
Availability: In Stock
Perfect addition to your custom built gingerbread house kit!
Five popular candies to decorate your gingerbread house.  Enough for two houses.
8 5.25-inch peppermint sticks
6 oz bag of gum balls
9 oz bag of gum drops
Red Hots Theater Box
10 hard candies in various colors (to create stained glass window effect)
Not offered for individual sale.