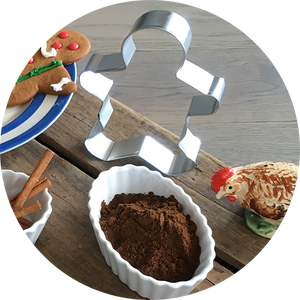 Ginger's Breadboys
Custom-made Large (5-inch) Gingerbread Boy Cookie Cutter Form. Made in the USA. Helping you make classic gingerbread cookies for the holidays.
Gingerbread Boy Cookie Cutter
Sale price Price $6.95 Regular price
Availability: In Stock
Pair with the Gingerbread Cookie Mix for the perfect gift!
Our large (5-inch) gingerbread boy cookie cutter is the perfectly rounded gingerbread boy shape. We've used it for over 35 years. And now you can enjoy it too!
5-inch tall gingerbread boy with 4.5" wingspan
tin
US made
custom design for Ginger's Breadboys by CookieCutter.com
rotund gingerbread boy shape
All Ginger's Breadboys gingerbread cookie kits contain a gingerbread boy cookie cutter. (except the Make Another Batch kit which only has replacements for disposable items in the original classic gingerbread kit).
Need help making, baking, and decorating? Take a look at our slideshow videos. How to make, bake, and decorate gingerbread boy cookies!
Need just the gingerbread cookie mix? We have that! Save 50% on your cookie cutter when you Bundle with the Gingerbread Cookie Mix. (Automatic discount - just place both in cart.)
Need Gingerbread House Cutters? We have those too!