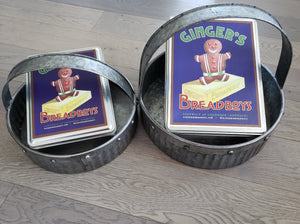 Ginger's Breadboys
I'd love to Make Another Batch of Gingerbread Cookies. Gingerbread Baking Kit Replaces Items used from the first round of baking gingerbread cookies.
Make Another Batch Gingerbread Cookie Kit
Sale price Price $27.95 Regular price
Availability: Out of Stock
An ideal gift for teachers, colleagues, family, and friends.
Make more gingerbread cookies and continue the tradition every year with replacement items for the original Classic kit with the Make Another Batch Gingerbread Cookie Kit. Replace all the items used in the first round of baking. Another great gingerbread cookie baking kit from Ginger's Breadboys!

Kit includes replacement items:

Ferrara Candy Company cinnamon imperials
2 12-inch pastry bags
Chefmaster Liqua-gel Food Coloring Leaf Green
4 sheets parchment paper
5 X 7-inch refrigerator magnet
Kit comes in a smaller tin than the original Classic cookie kit measuring 6³⁄₁₆" x 8⅛" x 2¹⁵⁄₁₆" and weighs approximately 2.75 lbs.