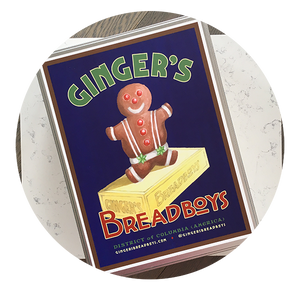 Ginger's Breadboys
The Deluxe Bundle Gift Set. Classic Gingerbread Cookie Baking Kit with Gingerbread Branded Apron, Pan Grabber, and two Flour Sack Kitchen Tea Towels.
Deluxe Bundle Gingerbread Cookie Kit Gift Set
Sale price Price $74.95 Regular price
Availability: In Stock
An ideal gift for teachers, colleagues, family, and friends.
Value, value, value - our gingerbread cookie kits make ~39 large (5-inch) cookies!

Make mine a Deluxe! The original-classic Gingerbread Cookie Kit plus all our branded items - 2 flour sack kitchen tea towels, butcher-style apron and the new Ginger's Breadboys branded pan grabber. A perfect gift item to grace any kitchen.

This is a Bundle-and-Save item. Priced separately, the kit (39.95), tea towels ($25), apron ($20) and pan grabber ($12.50) would retail at $97.45. Your savings is $22.50!
Add an original-classic Gingerbread Cookie Kit, an apron, two tea towels, and a pan grabber to your shopping cart and use the discount code BUNDLE-DELUXE at checkout.
Make, bake, and decorate gingerbread boy cookies with Ginger's Breadboys® gingerbread cookie baking kits! Stay home and bake!

A complete cookie kit for baking and decorating 3+ dozen 5-inch gingerbread cookies from scratch. To be enjoyed with children, grandchildren, family and friends. Bring fun to the kitchen for the holidays.

This is the ultimate gingerbread cookie kit. What's so special? Our gingerbread recipe makes a very forgiving dough that is easy to work with and bakes a delicious cookie every time. For non-bakers and bakers alike.

This cookie kit shows how to make, how to bake, and how to decorate gingerbread boy cookies. Slideshow videos are available online if needed. Not pre-baked or pre-assembled.
Kit includes:

Ferrara Candy Company cinnamon imperials*
cotton muslin decorating tools bag:

2 12-inch pastry bags*
2 couplers (base and ring)
4 decorating tube tips:

#14 standard (smile, mittens and boots)
#42 double-line (suspenders)
#48 basket weave (belt)
#30 closed 8-pointed star (suspender buttons)

Chefmaster Liqua-gel® Food Coloring Leaf Green*

"flour sweeper" pastry brush
4 sheets parchment paper*
5 X 7-inch refrigerator magnet (so you won't forget us!)
Kit is sustainably packaged in a rectangular tin measuring 10⅝" x 7⅞" x 3" and is shipped in a plain cardboard box (so as not to give away the gift!). Weight is approximately 4.25 lbs.

*These items available for re-order in the "Make Another Batch" kit.

As seen in the Atlanta Journal Constitution's 2019 Mother's Day Gift Guide!